Sample Conceptual Sketches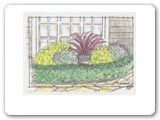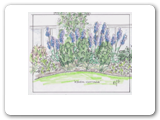 Garden consulting
Receive practical on-site instruction of garden design ideas and strategies. This can be done on one or more visit.
Full Landscape Designs
Get an architecturally drafted Master Plan complete with planting and hardscape overhead views. This service requires several meetings, and can include decks, patios, fences, trellises, walls and water feature elements if desired. (See sample of Landscape Plan and Conceptual sketches below.)
Container Garden Designs and Installation
Embellish your outdoor spaces with artful arrangements of plants and pots, designed installed by the Al fresco Connection
Landscape Installation
Have your design professionally installed by an associate Landscape Contractor. Choose to have all of it done at once, or in stages, it's up to you.


Sample Landscape Plan